TL;DR
"People have become a resource for the internet-era companies to harvest. Their time and cognitive energy is what is being harvested, which is the only thing people have in this life. The way it is being done, people flock to compete against each other in respect to which extent their time and cognitive energy can be harvested. In fact, the poorest people in the world see being the resource harvested in this way a key socio economic aspiration. They are not willing to just use whatever little funds might come their way, but they will go in to debt to do it."
The internet may very well be the most centralized thing in the history of the world. Not only that, but it has become a vehicle for accelerating centralization of wealth and power in an unprecedented way.
Internet centralization in numbers
– Google controls almost half of all online advertising revenues
– Most of Africa's ASN are owned by two (non-african) companies
– 36% of all IPv4 addresses are allocated to US
– Just 5 companies own more than 75% of all available IPv4 addresses
– Google Analytics is on 68% of top one million websites
– The two top web browsers have a combined 80% market share
– Facebook accounts for roughly half of all social media visits
– 87% of smartphones use Android operating system
While just 8 men have more wealth than 50% of the world's population, an average Indian pays 13 hours of average waged labor to access 1 gigabyte of data, accounting to about just 300 page-views. The way we have been trained to use the internet is a cause for even greater concern than the economic aspect of it.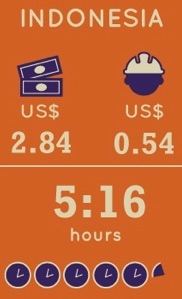 A significant fraction of Indonesian internet users never leave Facebook, with 61% thinking that Facebook is the internet.  They pay over 5 hours of work per 1 gigabyte of data for doing that. The average bandwidth consumption for a web page have steadily increased over the years, and is currently roughly 3 megabytes per page-views Research have shown that up to 90% of this is  related with tracking and advertisement, and not the content the user is looking for. Online advertising lobbyists convince law makers that this is necessary to keep internet content free and condemn internet users for protecting themselves and their wallets from surveillance capitalism predatory by using ad blocker and other similar solutions, and refer to such concerned internet users as "freeloaders".
Recent examples show how internet content is of increasingly poor quality, and often more focused on generating advertising revenue than any other aspect. Clickbait headlines, not so long ago embraced only by sleazy affiliate marketers, are now the norm used by every advertising funded online media. While the ad powered internet is responsible for up to 10% of the global energy footprint, few have stopped to ask what is the true cost of this model for the internet users.
Decentralization Objective:  A model for internet that is essentially about people and not about whatever it is that it's about now.